---
Create Your Own
If you see something you like and we are out of stock or you have a design you would like us to create for you, Lumina would be honored to accommodate your requests.  Simply reach out to us at rockhound@luminamined.com and we will begin the process.  Once complete we will place your specimen on this page for you to purchase.  We look forward to creating your beautiful piece with you!
If a product is on this page it was specifically created for a special customer.  If you would like to design one similar or completely different please do not hesitate to email us at rockhound@luminamined.com and we can begin working on your special design.
If there are no products on this page that means all "Create Your Own" pieces have been purchased or are being created in the Lumina Lab.   
Regular price

$25.00
—
Sold Out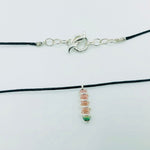 Regular price

$75.00
—
Sold Out